PayPal Rates and Fees: How Much Does PayPal Merchant Services Cost?
PayPal has grown considerably since its 1998 launch, when it made digital payments available to the masses. It now provides a full range of merchant services, accepts a variety of different payment options and is generally considered an extremely trustworthy processor.
That said, you're probably wondering exactly how much it will cost to work with PayPal. The answer is multi-faceted and depends upon what your business needs.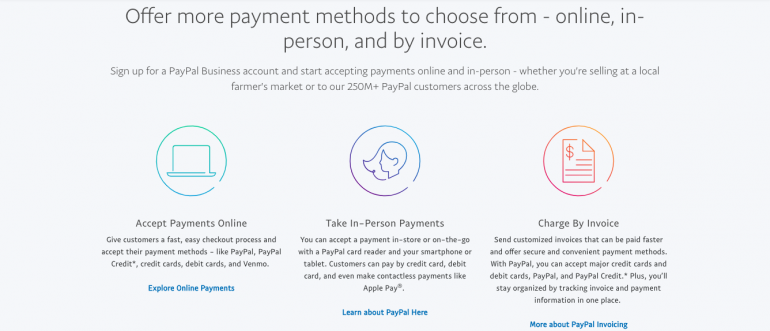 What you'll pay for PayPal software depends on what kind of software you need for your business. PayPal offers its basic software at no cost whatsoever and only charges monthly fees for more advanced options. Here are the different software options PayPal provides for merchants and their associated costs.
Payments Standard
The Payments Standard plan is a free service from PayPal that allows subscribers to add "buy" and "donate" buttons to any website. When a user clicks on the button, they will be directed to a PayPal checkout screen.
Payments Standard can accept debit and credit card payments, plus 25 currencies from over 200 countries. The service is also PCI compliant, offers fraud protection and encryption and works with most e-commerce platforms.
Payments Pro
Payments Pro is an upgrade to Payments Standard that costs $30 per month. With Payments Pro you can host the checkout process on your own website and accept payments from PayPal and Venmo as well as credit and debit cards. Payments Pro also comes with its own payment gateway and a virtual terminal that allows you to take payments over the phone.
If you wish to be able to process recurring payments, you can add the automatic billing feature to your Payments Pro account for an additional $10 per month.
PayPal Checkout
PayPal Checkout is another free service from PayPal that allows you to integrate PayPal, Venmo, PayPal Credit (PayPal's financing product) and regular credit and debit card buy buttons on almost any mobile device. When a user clicks one of the buttons, a PayPal pop-up window appears where they can complete checkout. When the payment is complete, PayPal will pass along the customer's contact and shipping information to you.
When you integrate PayPal Checkout you'll also get access to PayPal Marketing Solutions, an analytics dashboard that provides you with insights into how customers shop on your website.
PayPal Here
PayPal Here is a free application for iOS and Android phones that processes in-person payments via a mobile credit card reader. The app basically functions as a mobile point-of-sale, allowing you to set up a business profile, customize e-receipts, track sales and inventory, create invoices and assign roles and permissions for your employees.
Note that you need a mobile credit card reader to process payments with PayPal Here. Mobile card readers are sold separately.
PayPal invoicing
When you sign up for a free PayPal business account, you'll be able to send an unlimited number of digital invoices. Invoices can be paid via a credit or debit card or with a PayPal account. PayPal invoices offer a lot of functionality, including the ability to customize invoices, arrange recurring invoices, send reminders and follow-ups and accept partial payments.
PayPal Payouts
Another feature you get when you sign up for a PayPal business account is PayPal's mass payment option, PayPal Payouts. This service allows you to send payments to up to 5,000 people at once in a variety of different currencies. There is no payment processing fee here. Instead, PayPal charges a flat rate of 25 cents per transaction or 2% of the total payout.
Payment gateway
If you want to accept online payments with PayPal you'll need to use PayPal's payment gateway — PayPal Payflow. There are two Payflow options: Payflow Link is free and provides a PayPal-hosted checkout experience. This is the payment gateway used in Payments Standard, PayPal Here and PayPal Checkout. If you want a self-hosted checkout experience, you'll need to sign up for Payflow Pro, which costs $25 per month. This option allows you to create a custom, PCI-compliant checkout page. Note that Payflow Pro is built into Payments Pro.
Point-of-sale
Although PayPal does not offer its own point-of-sale (POS), it does integrate with many other POS providers at no cost. Here are the POS providers that PayPal works with and their costs:
Country: Vend is a POS system designed for inventory-based retailers of all sizes. Pricing starts at $99 per month and includes real-time inventory management, reporting features, 24/7 support and integration with Xero.

Lavu: Lavu is a POS designed for hospitality businesses that boasts features like menu and order management and sales and labor reporting. Pricing starts at $69 per month per terminal.

Touchpoint.io: Touchpoint.io is a unique POS designed to help chain businesses increase sales through machine learning. Pricing on Touchpoint.io is quote-based.

Talech: Talech POS is designed for both retail businesses and restaurants and offers features like barcode printing, inventory tracking and customer relationship management. Prices range from $44 to $82 per month.

Brightpearl POS: Brightpearl is another retail-focused POS that provides features like synchronized customer and sales data and the ability to accept coupons and discounts. Pricing for Brightpearl is quote-based.

TouchBistro: TouchBistro POS is designed to help restaurant managers improve efficiency through tools like tableside ordering, floor-plan management and schedule creation. Prices range from $69 per month to $399 per month.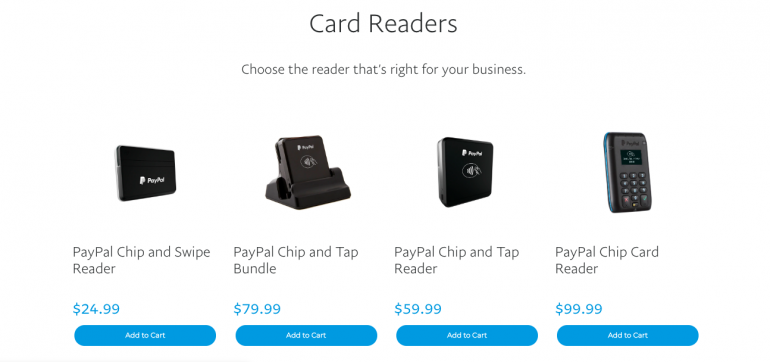 If you're only using PayPal for digital transactions, you won't have to worry about any hardware costs. But if you want to use PayPal Here, or you are going to integrate PayPal with a third-party POS, you'll need to invest in some POS hardware. Given that PayPal doesn't offer POS software, its hardware offerings are limited to card readers and some accessories.
Card reader prices range from $14.99 for a dongle that plugs into a mobile device to $99.99 for a card reader that can take swipe, dip and contactless payments. Other hardware products sold through PayPal include register stands, receipt printers and cash drawers. For an all-in-one POS hardware solution, PayPal recommends the Elo Paypoint from Talech, a combination register, cash drawer and card reader.
PayPal doesn't charge a lot to use its services. Instead, it makes its money via payment processing fees. The processing fees you will pay depend on the transaction type (in-person, digital) and the service you are using (PayPal Here, Payments Pro).
PayPal is what is known as an aggregator. This means that PayPal aggregates payments from all its clients into one giant merchant account. Using an aggregator means you won't face the same strict underwriting standards that you would if you went to a bank to open your own business merchant account. However, your account will be more heavily scrutinized when working with an aggregator, given that rejected and fraudulent transactions impact the larger pool of clients. Because of this, delayed payments, account holds and account terminations can happen. Familiarize yourself with PayPal's terms of service before signing up, so you won't face disruptions in your service.
For merchants who use PayPal Here or integrate PayPal with a third-party POS app, your payment processing rate will be:
2.7% per swiped, dipped or contactless transaction.

3.5% plus 15 cents per keyed-in transaction.
For digital payments, including payments using Payments Standard, Payments Pro, Payments Checkout and PayPal invoices, your fee will be:
2.9% plus 15 cents per transaction.
For the most part, these are the only rates you have to worry about. However, there are a few caveats for specific transaction types. If a majority of your payments are under $10, you can opt for PayPal's micropayments plan, which gives you the following payment processing rates:
5% plus five cents per transaction (note: this rate applies for transactions over $10).
If you are a qualified 501(c)(3) non-profit, PayPal will offer you the following rate:
2.2% plus 30 cents per transaction.
Other fees to be aware of with PayPal payment processing include:
1.5% cross-border transaction fee (for digital or in-person payments using a foreign credit card).

2.5% currency conversion fee (for foreign payments that require the currency to be converted into US dollars).

$20 chargeback fee (fee added to the amount needed to cover the chargeback).

On refunds, PayPal will return the percentage-based fee it charged the merchant, but keep the fixed fee. For example, if you initiate a refund on a digital transaction, PayPal will refund the 2.9% fee it assessed, but keep the 15 cents fixed fee.

Working with aggregators, the money typically arrives in your business bank account 24-48 hours after the transaction is processed. If you would like the money sooner, PayPal offers an instant transfer for a fee of 1% of the total transfer amount (capped at $10). Funds will typically be available within 30 minutes.
The lowest possible PayPal rates
The lowest possible rate you can pay to use PayPal is 2.7% for in-person transactions and 2.9% plus 15 cents for digital transactions (unless you're a nonprofit). These rates are slightly lower than what you would pay to work with competitor payment-processing services. Here are PayPal's competitors and their rates:
Square: 2.75% for in-person transactions and 2.9% plus 30 cents for digital transactions.

Shopify: 2.7% for in-person transactions and 2.9% plus 30 cents for digital transactions.

Stripe: 2.7% plus 30 cents for in-person transactions and 2.9% plus 30 cents for digital transactions.
Note that there are some exceptions to these rates. Shopify, for instance, lowers your processing rates if you sign up for one of its more advanced software plans. Generally speaking, PayPal offers some of the best processing rates on the market.
The lowest PayPal fees possible
If your business sells primarily online and you're comfortable with PayPal hosting your checkout, you can use PayPal without incurring any monthly fees. Payments Standard, PayPal Here and PayPal Checkout are all free services that will only charge you when you process a transaction.
If you want to use Payments Pro or Payflow Pro, you will be charged a monthly fee, but you would only need these options if you want to offer a self-hosted checkout experience.
A version of this article was first published on Fundera, a subsidiary of NerdWallet.

www.nerdwallet.com